AL MASAR GALLERY | Contemporary Art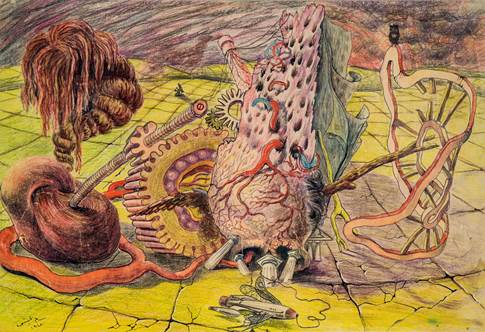 AL MASAR GALLERY is delighted to announce the opening of
ART & LIBERTY | Rupture, War, and Surrealism in Egypt | (1938 – 1948)
for the fourth presentation of its international tour
November 16, 2017 at 19:00
TATE . LIVERPOOL
Albert Dock, L3 4BB, Liverpool
' INVITATION FOR THE PRIVATE PREVIEW ARE AVAILABLE AT AL MASAR GALLERY '
After its critically acclaimed debut at the Centre Pompidou in Paris, the second iteration of the exhibition at the Reina Sofia in Madrid , followed by its third presentation at KunstZamlung Museum in Dusseldorf , The Exhibition will continue its fourth presentation at Tate Liverpool on November 16, 2017.
Georges Henein, one of the main founders of the Group spent his adolescent years in Madrid from 1924 to 1926. Between 1936 and 1940, he would write a series of poems denouncing Franco's ideologies and rise to power. Moreover, when the Group's manifesto Long Live Degenerate Art was published in December of 1938, Picasso's Guernica appeared on it as an illustration of the document's antifascist stand. 79 years later, the iconic painting and the Group's manifesto are united, for the first time, under the same roof
Now, Tate Liverpool presents the UK's first comprehensive exhibition that looks at their history and body of work, and explores the socio-political motivations that drove them.
Publishing their manifesto Long Live Degenerate Art in December 1938, in opposition to Hitler's attack on modern art, the group aligned themselves with those European artists whose work had been termed 'degenerate' and responded to the rise of fascism. Between 1938 and 1946 they worked within both the context of the Second World War and colonial Egypt to inspire a generation of young artists, intellectuals and political activists, and aimed to make art that could affect social change.
Comprising more than 100 paintings, drawings, archival documents and film, this show includes works that comment on issues including police brutality and the objectification of women. It also looks at key artist Ramses Younane's development of a new form of Surrealism, 'subjective realism', which drew on real-world motifs alongside those from the imagination.
Highlighting the group's interdisciplinary nature, the exhibition includes examples of their collaborative literature and experiments in photography.