AL MASAR GALLERY | Contemporary ArtImage removed by sender.
We are delighted to invite you to…
Art et Liberté
Rupture, War, and Surrealism in Egypt (1938 -1948)
Will continue through: March 18, 2018, at:
Tate Liverpool
Albert Dock, Liverpool
L3 4BB, UK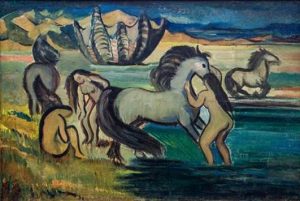 "AL MASAR Gallery is proud of participating with eleven rare works by four of its late artists, for this historical touring Exhibition"
In its adaptation for the Tate Liverpool, this fourth presentation of the exhibition highlights the close ties between Art et Liberté and British Surrealism. On many occasions, the Cairo surrealists and the London-based surrealist group published each other's writings and artworks. The surrealist artist Roland Penrose published Art et Liberté's founding manifesto, along with a short preface titled From Egypt in The London Bulletin issue of April 15, 1939, just a few months after it appeared in Cairo. Photographer Lee Miller who was married to an Egyptian and lived in Cairo between 1934 and 1939, introduced Art et Liberté to several British surrealist writers and artists including Penrose, whom she would marry later. Painter Amy Nimr, a leading Art et Liberté member who had studied at the Slade School of Fine Arts in London and exhibited along artists such as Henry Moore and Barbara Hepworth, also played a key role in introducing British Surrealism to Cairo. Egypt was at war by virtue of being under British Colonial rule, and several British surrealist artists such as Robert Medley and Victor Musgrave were stationed in Cairo during WWII. These "War Artists", took part in some of Art et Liberté's exhibitions, strengthening the connection with their Egyptian counterparts.

The exhibition was previously shown at the Centre Pompidou in Paris, the Reina Sofía in Madrid, and the Kunstsammlung Nordrhein-Westfalen K20 in Düsseldorf. It will conclude its tour at the Moderna Museet in Stockholm where it will be on view from April until August 2018.
"This exemplary show retrieves a dynamic chapter of Surrealism that was, till now, lost even from footnotes."
Maya Jaggi, The Financial Times, April 17, 2017
"In an international network, they [Art et Liberté] regarded themselves as an independent branch of Surrealism, which had to receive just as much as it had to contribute. To show this in paintings, documents, films, and photographs not only historically, but also artistically, is the great accomplishment of the curators Sam Bardaouil and Till Fellrath".
Sonja Zekri, Süddeutsche Zeitung, August 31, 2017
About the Exhibition
Art et Liberté: Rupture, War and Surrealism in Egypt (1938 – 1948) is the first comprehensive museum exhibition about the Art and Liberty Group (Art et Liberté – jama'at al-fann wal hurriyyah), a surrealist collective of artists, writers, and political activists living and working in Cairo between the late 1930s and late 1940s.
Founded on December 22, 1938 upon the publication of their manifesto Long Live Degenerate Art, the Group provided a restless generation of women and men of various social, ethnic and religious backgrounds, Egyptian and non-Egyptian alike, with a heterogeneous platform for cultural and political reform. At the dawn of the Second World War and during Egypt's colonial rule by the British Empire, Art et Liberté was globally engaged in its defiance of Fascism, Nationalism and Colonialism. The Group played an active role within an international network of surrealist writers and artists spanning cities such as Paris, London, Mexico City, Santiago de Chile, New York, Beirut and Tokyo. Through their own definition of Surrealism, they achieved a contemporary literary and pictorial language that was as much globally engaged as it was rooted in local artistic and political concerns. Moving beyond the polarizing dichotomies of Saïdian Orientalism and post-colonial discourse, this exhibition sheds light on Art et Liberté's negotiation of Surrealism, expanding our understanding of modernism at large, and advocating an inclusive vision of art history.
The preparatory academic and field research for the exhibition was conducted over 6 years, with hundreds of field interviews and consultations of archival collections and library holdings worldwide. For the exhibition, around 130 artworks and 200 archival documents were selected from over 50 private and public collections in 13 countries. Most of these hitherto unknown artworks and documents are publicly seen for the first time. In preparation for the exhibition tour, many of the objects were part of a comprehensive restoration project, to ensure the lasting preservation of the Group's artistic and intellectual legacy. In reuniting these artworks and documents for the first time, this historic exhibition charts a precise chronology and offers an all-encompassing presentation of Art et Liberté.
International Exhibition Tour
Musée national d'art moderne – Centre Pompidou, Paris (France):
19 October 2016 – 16 January 2017
Museo Nacional Centro de Arte Reina Sofía, Madrid (Spain):14 February 2017 – 28 May 2017
Kunstsammlung Nordrhein-Westfalen K20, Düsseldorf (Germany):
15 July 2017 – 15 October 2017
Tate Liverpool, Liverpool (U.K.):
17 November 2017 – 18 March 2018
Moderna Museet, Stockholm (Sweden):
28 April 2018 – 12 August 2018
Publications
Academic Monograph
The exhibition content is based on a 352-page academic monograph on Art et Liberté and modernism in Egypt summarizing six years of academic and field research.

Winner of the 2017 Modernist Studies Association Book Prize
Surrealism in Egypt: Modernism and the Art and Liberty Group
By Sam Bardaouil
I.B.Tauris, London, 2016, 352 pages, 104 ill., ISBN 978-1-78453-651-0

Exhibition Catalogue
The exhibition is accompanied by a fully-illustrated catalogue in five separate editions.
German Edition
Art et Liberté: Umbruch, Krieg und Surrealismus in Ägypten (1938 – 1948)
Edited by Sam Bardaouil and Till Fellrath, with a contribution by Doris Krystof
Skira Editore Milan, 2016, 224 pages, ISBN 978-2-37074-048-9
English Edition
Art et Liberté: Rupture, War and Surrealism in Egypt (1938 – 1948)
Edited by Sam Bardaouil and Till Fellrath, with a contribution by James Gifford
Skira Editore Milan, 2016, 224 pages, ISBN 978-2-37074-031-1
Arabic Edition
جماعة الفن و الحرية: الإنشقاق و الحرب و السريالية في مصر ١٩٣٨ – ١٩٤٨
Edited by Sam Bardaouil and Till Fellrath
Skira Editore Milan, Italy, 2016, 256 pages, ISBN 978-2-37074-050-2
French Edition
Art et Liberté: Rupture, Guerre et Surréalisme en Égypte (1938 – 1948)
Edited by Sam Bardaouil and Till Fellrath
Skira Editore Milan, Italy, 2016, 256 pages, ISBN 978-2-37074-030-4
Spanish Edition
Art et Liberté: Ruptura, Guerra y Surrealismo en Egipto (1938 – 1948)
Edited by Sam Bardaouil and Till Fellrath
Skira Editore Milan, 2016, 224 pages, ISBN 978-2-37074-049-6